Adam's Story
By Denise Mamula
WCS Website Coordinator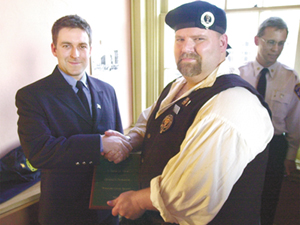 Wheeling Celtic Society's President Art McCrobie East with New York Firefighter Adam Mazy
On September 11, 2001, our world changed drastically--and it all happened here in our own back yard. We witnessed firsthand what hatred can do and came together as a nation to do whatever was necessary to recover. Some volunteered time, some volunteered dollars, some sent food, clothing, temporary shelter, and some sent the only thing they had to send--prayers. People around the world did what they could to help.
At the Sixth Annual Wheeling Celtic Festival in March 2002, we had the opportunity to meet an extraordinary young man named Adam Mazy. Adam is a firefighter with Ladder Company 12 in New York City. On that fateful Tuesday morning, Adam went into the South Tower with seven other firefighters from his company with the intention of helping others. Shortly after the eight men entered the building, however, the structure collapsed and they, along with thousands of other innocent people, ended up victims of the terrible events of that day.
Three of Adam's comrades perished in the collapse. But Adam was one of the fortunate ones. Unaware of what had actually happened, he did whatever he could to get out of the wreckage and was taken to one of the hospitals in the area. It was there that he realized the magnitude of the situation.
Dori, Adam's wife, was at home watching the story unfold on television and saw the South Tower go down. She knew the worst could happen, but she never lost faith and through it all, believed that Adam was alive. As they talked with people at the Festival, I noticed how she looked at Adam as the festival-goers shook his hand and thanked him for the job he had done. I could see the love in her eyes and the pride in her heart as she stood at his side.
At a national mayor's conference, mayors from around the United States invited a firefighter to visit their hometowns as a way of supporting them for the brave service they gave on September 11th. Adam was invited by Mayor Nick Sparachane to visit Wheeling. He and Dori were given a tour of the city and then, at a special Friday ceremony held at West Virginia Independence Hall by the Wheeling Celtic Society, Adam, as well as local firefighters, were recognized for their efforts. On Saturday afternoon, during the festival another ceremony was held at which Adam received the key to the City of Wheeling. He stood on the stage surrounded by the Mayor and other dignitaries as they smiled for the cameras. As expected at these events, Adam made a short speech and thanked everyone for inviting he and Dori to visit Wheeling and making them feel welcome. But it's what he didn't say that caught my attention.
After all the hands were shook and speeches were spoken, a prayer was said. As they all stood lined up across the stage as a piper from one of the bands playing at the festival stood near Adam and played Amazing Grace. As he played, it happened. The most poignant moment of the entire weekend.
As I watched from my place in the crowd, I saw Adam's eyes well up with tears and glance toward the Heavens. It seemed almost as if in that one moment he conveyed all that he was feeling. The heartache of losing so many friends....the fear of going into that tower....the gratefulness of coming out alive....the agony of not being able to help the people trapped in the rubble....and the question in all our hearts....why did this have to happen?
The moment was so intense, that even the piper could not finish playing. Then came applause and a standing ovation and the fanfare was over. The festival went on as scheduled and a great time was had by all. I had a million questions that I thought about asking, but I decided not to. I really didn't want to bother them. I wanted to let them alone so they could enjoy themselves for a while. They deserved that. I asked Adam and Dori their permission to use their names and pictures on our website which they graciously gave. On their way out, I hugged them,wished them a safe trip and told Adam our prayers are with him and to try to stay strong. He replied with "I will", smiled, then disappeared into the crowd. Those were the only words that were spoken between us during the entire festival. But in that one moment, I learned more about September 11, 2001, than any newspaper or television report could ever have told me.
Thank you Adam.
HOME